Hokkaido
I bought a $1,000 plane ticket to go skiing in Hokkaido this winter. Great deal, right? Who wouldn't spend 24-hours in jetlagged numbness to end up in the different hemisphere's version of Alaska– cold snow cloaked in maritime darkness. The only difference between the two continents is more carbon emissions than most humans emit in a year and a giant hole in my bank account–and, in Niseko, nearly as many Australians as snowflakes. Only a seductive ski porn propaganda campaign could drive Alaskans to make such bizarre decisions, combined with the past winters of relentless rain.

Actually, the paragraph above doesn't describe Hokkaido at all. First, it is a highly civilized place, in which the government actually plows roads and sidewalks, and installs dazzlingly precise infrastructure–overhead light arrows, lasers projected to the sides of the roads–to allow anyone to drive safely through blizzards. The gas stations, with their immaculately packaged fishcakes, sushi, steam buns and coffee that will only dispense when a clear protective cover has enclosed the cup, are a miracle of ingenuity, anal retentiveness, taste bud stimulation and caloric deprivation. Mass transit serves the most remote villages as efficiently as automobiles, but the cars and vans still put American vehicles to shame. I will never understand how there are a half dozen spacious, all-wheel drive station wagons–and an equal number of highly functional four-wheel drive vans–in Japan, none of which are available in America. Even their snow tires work better.




Although the resort complex of Niseko has branded itself as "Japow," there are many more ski resorts and backcountry destinations. Approximately 30-miles east, the Kiroro ski area is significantly higher than Niseko. When it rains at the base of Niseko, it nukes pow at Kiroro. Though they are quite close together, the two areas catch different weather systems–winds out of the north favor Kiroro, while west/northwest winds inundate Niseko. Finally, Kiroro lacks a village at the base of the ski area. Other than a couple of hotels, it is in the middle of nowhere, and, as a result, is much less crowded.
Alluring peaks surround the Kiroro ski area. For reasons that only Japanese ski resort engineers will understand, Kiroro's lifts conscientiously avoid all of them and stick to meadows so flat that you'll find yourself skating down them (God help the snowboarders, who should bring overnight provisions).

There is some exceptionally deep snow in the glades adjacent to Kiroro, but most of the resort is too flat to go downhill while making turns. Mt. Yoichi, which is only about an hour skin from the top of the ski lift, often rises above the clouds and provides views from Honshu to the north end of Hokkaido. The nearly symmetrical volcano Yotei looms Annupuri, which in turn towers over the Niseko resort.

Just a few miles to the northwest, the sea of Japan stretches toward Siberia. Yoichi is on the perimeter of a rich basin for backcountry skiing. Its north face is part of an arcing ridge from which many prominences and sub-ridges descend toward the ski resort. These are home to spines, glades, chutes and bowls. There is enough backcountry near Kiroro to ski for nearly a week. The only inconvenience is dealing with the ski patrol and resort. Uphill travel through the resort is not allowed, and skiers must file a "mountain plan" to egress through the gates. The mountain plan must be obtained from the Mountain Club in the resort, which frequently has a very long line in the morning. To avoid this hassle, skin out of sight of the ski patrol when heading into the backcountry.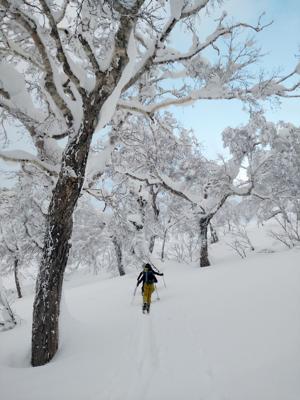 Kiroro-area backcountry
There is no such bureaucracy to prevent skiing up Yotei, the massive volcano near Niseko and the town of Kutchan. The base of Yotei is little more than a hundred feet above sea level, from which it rises to 6,227 feet. Even on many clear days, dark clouds churn around the caldera at its summit. If climbing Yotei, plan on ascending and descending avalanche terrain and then rime ice in a whiteout. Fortunately, a pleasant climb through forest precedes entry into the wind-lashed alpine. Approaching Yotei is possible from all sides, but there is a convenient parking lot and trailhead by Hangetsu Lake, which is in between Kutchan and Niseko. First follow the snowed-in road, then the trail and eventually switchback up to the old lava flow and follow it towards the summit. This small ridge, which seems to be an old lava flow, offers opportunities to manage terrain and minimize avalanche danger, which should be assumed to be significant given the wind effect on this very prominent peak. Most of the time, Yotei's summit is utterly inhospitable, but on a calm day it is possible to ski down into its impressive crater. For a wild, unspoiled backcountry ascent, Yotei is awfully convenient for skiers visiting Hokkaido.
Nearing Yotei's summit




Moiwa is a small resort on the west side of the Annupuri peak and is less crowded than Niseko proper and Grand Hirafu, the big resorts with the highest lifts. From the top of those lifts, it is possible to climb Annupuri peak and drop into backcountry that stretches clear toward the Sea of Japan (such an exploration would take several days). When you arrive in Hokkaido, pick up a map of the onsens, which also shows where roads are closed for the winter. Several in the higher elevations, such as Goshiki Onsen on Route 58, are also trailheads for backcountry skiing that can give you a jumpstart into the alpine.
Japan is a delightful country to visit. I've never seen a place with such strong cultural norms of courtesy and respect, which extend to business practices. All Nippon Airlines shames any of our airlines with its quality, price and customer service (even the best of U.S. carriers, Alaska, should emulate ANA's practices). Store owners, toll booth operators and random citizens help us illiterate, bumbling westerners find our way through Japan with awe-inspiring patience. Temples, seaside fishing villages and Japan's picturesque and agriculturally productive countryside make the trip more than a mere ski vacation.
Despite all of Japan's positive attributes, it is definitely unwise to book a ticket, stay at Niseko and plan on skiing fresh powder every day. You need to have backcountry plans for when it's not pounding snow at the resort. Slight changes in weather patterns produce major differences in accumulation even within a region. With this research, Japow awaits.